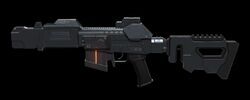 "

Envisioned as the future of tactical combat, the Spacecraft was a special gift for members of the Special Forces. The expanded magazine provides greater ammo capacity.

"



 

— Weapon Description 
Overview
Edit
The Galil MAR Spacecraft is an upgraded variant of the Galil MAR Chromenon. It was originally released in the 04/25/17 patch, as the jackpot in the Spacecraft Box in the capsule shop. Compared to the Chromenon, it features a higher overall performance, with it's biggest improvements being in ATK (38.9 -> 40.9) and AutoFire ACC (70.2 -> 75.6). It as well contains 5 more bullets per magazine.
The exterior has a very futuristic design. The normal aluminum body has been replaced by what seems to be titanium. The gun itself looks like a plasma rifle of sorts.
Modifications
Edit
None
Variants
Edit
Ad blocker interference detected!
Wikia is a free-to-use site that makes money from advertising. We have a modified experience for viewers using ad blockers

Wikia is not accessible if you've made further modifications. Remove the custom ad blocker rule(s) and the page will load as expected.