This article is a stub. You can help Alliance of Valiant Arms Wiki by expanding it.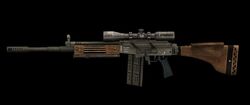 "

This GalilSniper is a SR version of Galil rifle and has been redesigned to use 7.62mm NATO ammo. IMI manufactures it and Israeli Defense Corps is using it. GalilSniper is rather close to tactical support rifle than a genuine sniper rifle.

"



 

— Weapon Description 
The Galil Sniper is a weapon for the Sniper class released alongside ijji AVA's official game launch.
The Galil Sniper is removed from the In-game shop,and is no longer purchasable.Although players can keep their weapons if it was purchased before the removal of the weapon in the In-game shop.
The Galil Sniper is a relatively weak semi-automatic Sniper Rifle that can be bought and used at the trainee rank. It is one of the few expendable Sniper Rifles that can be bought in the shop and the cheapest sniper to buy permanently. While only having a low range and damage, with relatively high recoil and poor moveshot stability, the Galil Sniper is special in its ability to hold 20 shots on its default magazine. Because of its unique characteristics, the Galil Sniper is more thought of to be a Battle Rifle rather than a Sniper Rifle, and can be used in Close Quarters much more smoothly than other Bolt-Action Rifles. The Galil Sniper can also be used to deal effectively with multiple enemies thanks to its magazine size and semi-automatic feature. Despite its strengths, the Galil Sniper is easily outclassed in much more aspects than several other Sniper Rifles and should not be the go-to weapon for Sniping unless it is in the hands of a professional. In a Co-op situation the Galil is a great gun because of its relatively cheap price as an expendable and the 20 round magazine. It is a 2-3 shot kill at any range.
Being of Trainee rank, it is one of the few rentable weapons of ijji AVA. However, if one is looking for a rentable semi-auto sniper, the MSG90A1 is recommended over the Galil as it has a 1 hit kill to the torso (after a damage mod.) But with the recent addition of Sniper Field Manual III, this gun is now a formidable contender as it will have perfect stability while running. On the other hand, because the Sniper Field Manual III is a Sergeant First Class 3 item, buying the Galil sniper over the permanent HK417 that has the same practical rate of fire but lower recoil is an unwise decision.
Out of all primaries, this is the cheapest purchasable weapon in the game (at 31,000 Euros) , and by extension the cheapest rentable weapon in the game (at 3,100).
Modifications
Edit
Mount
Quick Scope
Barrel
Sharpshooter Barrel (+2.7 Accuracy ,+2.3 Auto Fire ACC, -0.03 RoF)
Sharpshooter Barrel MK 2 (+3.6 Accuracy ,+3.1 Auto Fire ACC, -0.03 RoF)
Trigger
Rapid Fire Mechanism (+0.03 RoF)
Rapid Fire Mechanism MK 2(+0.06 RoF)
Grip
Swap Grip
Stock
Light Stock (+2.1 Mobility)
Fast Reaction (-4 Range, +3.6 Accuracy, +3.1 Auto Fire ACC,-2 Mobility)
Recommended Builds
Edit
With it's fast RoF and accuracy, the Galil Sniper can be used for easy headshots. Here's how
Use the Basic Scope
Aim for the head when dealing with crouched snipers
Go for torso shots when dealing with moving targets
Aim the mouse at head level in Gallery. The amount of headshots is exponential.
Notable Comparisons
Edit
GIF Gallery
Edit
Ad blocker interference detected!
Wikia is a free-to-use site that makes money from advertising. We have a modified experience for viewers using ad blockers

Wikia is not accessible if you've made further modifications. Remove the custom ad blocker rule(s) and the page will load as expected.