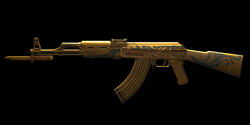 "

Unknown.

"



 

— Weapon Description 
The Golden AK-47 (also known as AK-47 Nugget) is a skinned variant of the AK-47 Antique. It was originally released as a possible prize from the Season 1 of Mega Capsules. Statistically and performance-wise, it is identical to the Antique (with +2 Bullets per magazine). This AK-47 is unique in that, when using it, the player will earn more Euros from that game.
See AK-47 Antique
The exterior has a main gold color coat, hence the name. It has dark grey and gold accents along the stock and base of the gun.
Modifications
Edit
None
Notable Comparisons
Edit
Ad blocker interference detected!
Wikia is a free-to-use site that makes money from advertising. We have a modified experience for viewers using ad blockers

Wikia is not accessible if you've made further modifications. Remove the custom ad blocker rule(s) and the page will load as expected.