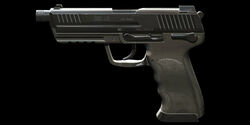 "

The special SOCOM model of P30, adapted to use .45 ACP ammunition

"



 

— Weapon Description 
It was released in the 06-04-14 Content Update.
This gun has higher damage than the MK23 SOCOM and the same rate of fire as the Glock 21C or Beretta92FS making it a very deadly pistol. It's only drawback is its slightly lower ammo capacity compared to other pistols and low range.
Checking JAVA damage tests, it is in fact inferior to the Glock21C just like the Beretta92FS.
https://translate.google.ca/translate?hl=en&sl=ja&u=http://nukkato.com/ava-secondary-bodyshot/&prev=search
However, it should be noted that the stats presented in UAVA are outdated compared to KAVA. The Socom Mk23 (44) in fact does 1 more damage, but the HK45 (43) does 5 damage over the Glock (38) and 6 over the Beretta (37).
Source: http://www.aeriagames.com/forums/en/viewtopic.php?t=1983521
Modifications
Edit
Secondary weapons can't be modified.
Recommended Builds
Edit
Secondary weapons can't be modified.
Notable Comparisons
Edit
Ad blocker interference detected!
Wikia is a free-to-use site that makes money from advertising. We have a modified experience for viewers using ad blockers

Wikia is not accessible if you've made further modifications. Remove the custom ad blocker rule(s) and the page will load as expected.