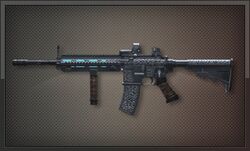 "

A custom rifle made through handpicked HK 416, supporting gas-piston mechanism, heavy ammo weight and ammo capacity for improved accuracy and stability.

"



 

— Weapon Description 
A capsule version of the HK416. Available from 5th December 2012 Content Update.
The HK416 Mjollnir is a HK416 capsule variant with an electric blue motif. The weapon features a custom scope, with a blue dot sight. The weapon is a long range variant of the HK416. The range and stability have been increased, but the RoF has been lowered.
When aiming down the sight, the recoil is almost nonexistant, making it similar to an AK107bis.  However, the HK416 Mjollnir shoots somewhat slower when aimed, so it is advised to try and achieve headshots or bodyshots to ensure maximum damage.
Notable Comparisons
Edit
Compared to the original HK416, the Mjollnir has better range and stability for exchange of a lower damage and RoF. It makes the gun easier to handle at longer ranges but less deadly in general.
The Reticule on the scope is a hammer. More specifically, Thor's hammer. The Mjollnir is the true name of Thor's hammer, hence the hammer like reticule and the electric paintjob. 
Ad blocker interference detected!
Wikia is a free-to-use site that makes money from advertising. We have a modified experience for viewers using ad blockers

Wikia is not accessible if you've made further modifications. Remove the custom ad blocker rule(s) and the page will load as expected.