"

[Harpoon Rapista] A special harpoon knife with camouflage pattern and color coating, applied by special alloy and surface treatment.

"



 

— Weapon Description 
Overview
Edit
This knife requires for a master item to be used, which is the Harpoon Knife.
7 Days version - Folding Knife Box: 5 Red Ticket
Permanent version - Resupply Bonus Program: 250 AP
Variants
Edit
This weapon was obtainable as a 7 days timed version from the Folding Knife Box at the Capsule Shop, Mars 2015 and came only as a permanent version from the Resupply Bonus Program, a Tiered Spender on the End Sale of Aeria Games.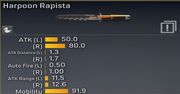 Ad blocker interference detected!
Wikia is a free-to-use site that makes money from advertising. We have a modified experience for viewers using ad blockers

Wikia is not accessible if you've made further modifications. Remove the custom ad blocker rule(s) and the page will load as expected.