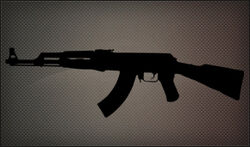 The Jormungand was first introduced with Mega Capsule Season 1. It features a buffed ASW.338 Origin.
Modifications
Edit
Quick Scope II
Sharpshooter Scope ll
.338 Lapua Trigger (+10.0 ATK, +2.6 Range, -5.9 Recoil Control)
Ad blocker interference detected!
Wikia is a free-to-use site that makes money from advertising. We have a modified experience for viewers using ad blockers

Wikia is not accessible if you've made further modifications. Remove the custom ad blocker rule(s) and the page will load as expected.