"

Unknown.

"



 

— Weapon Description 
A Mega Capsule prize, it was released in the 03-03-14 Content Update.
The K2 Amur Tiger is a mega capsule weapon with many unique features, like its extra ammo capacity. Though there is a red dot sight on the Amur Tiger, it is not usable. Right clicking will only change the weapon from full automatic to a 2 burst mode. Overall, this gun is just a skinned variant of the K2 Rail that includes many unique features, making this gun deadly in the hands of a pro.
Modifications
Edit
Mechanism Improvement (+0.53 ROF)
Veteran trigger (-1.7 Accuracy, -1.5 Auto Fire ACC)
Weight Grip (+3.3 Stability ,-0.7 Mobility)
Silicon Grip (+1.4 Accuracy, +1.1 Auto Fire ACC)
Recommended Builds
Edit
Just control spray, for it is one of the best guns to control bloom and recoil.
Notable Comparisons
Edit
K2 Rail - Everything about this gun is basically the same as the Tiger, though does not include a 2 burst mode and extra ammo capacity.
AN-94 Onca - Though the Onca is a totally different gun, the Onca provides the ability to change from automatic to 2-burst mode, like the K2 Amur Tiger.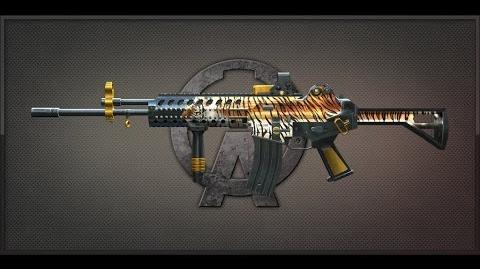 Ad blocker interference detected!
Wikia is a free-to-use site that makes money from advertising. We have a modified experience for viewers using ad blockers

Wikia is not accessible if you've made further modifications. Remove the custom ad blocker rule(s) and the page will load as expected.