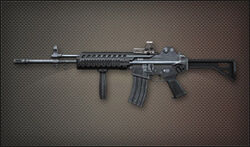 "

Advanced version of K1. It has high reliability due to utilization of piston using gas pressure mechanism rather than direct gas action. It is quite portable thanks to side-folding butt stock and has excellent accuracy.

"



 

— Weapon Description 
In terms of performance, it plays similarly to the HK416, and looks close to it. It has a high moveshot with great stability and good damage. When compared to the HK416, it is more accurate and has more predictable recoil but is less damaging. It is rated low by KAVA players for being overpowered on release, but because of this, this gun is more than a match for newer guns being released.
It is directly related to the K1A1 SMG, which is used by the Pointman and plays similarly, though not identically.
Modifications
Edit
Sharpshooter Barrel (+2.5 Accuracy , +2.1 Auto Fire ACC, -0.51 ROF)
Reinforced Rifling Barrel (+4 Damage ,-0.79 ROF)
Mechanism Improvement (+0.56 ROF)
Custom Trigger (+0.4 Stability ,-0.31 ROF)
Weight Grip (+2.4 Stability ,-0.8 Mobility)
Recommended Builds
Edit
Dot (x2 HS) (+3 Range)
Reinforced Rifling Barrel (+3 Damage ,-1 Stability ,-1 ROF)
Custom Trigger (+2 Stability ,-1 ROF)
Weight Grip (+1 Stability ,-1 Mobility)
Best build for stability K2
Notable Comparisons
Edit
Wild Howling:

K2 have a higher accuracy(75 to 74) and mobility(47 to 46) than Wild Howling
​K2 have a lower damage(36 to 40) and stability(60 to 62) than Wild Howling
They both share the same range (45) and RoF (48)

AMD 65:

AMD 65 has more ROF, Bloom, Mobility then K2 Rail
​K2 has more DMG, tighter Crosshairs then AMD 65

Hk416:

Hk416 has more Much higher ROF, Bloom, Mobility then K2 Rail
​K2 has more DMG, tighter Crosshairs, Range then HK416
The K2 ingame features a quad-rail handguard,a folding stock (as apposed to the normal solid stock) and a Daniel Defense vertical foregrip.
In JAVA and KAVA there is another K2 version named "K2 Mod 1" with same stat ,same mod ,same price and same rank .It more like HD version of K2 Rail
It was Possible to play with this gun Before it was Released The Bots In Al Mission Had this weapon And it was Possible to Pick it Up However since a Update the Bots doesnt Use This Gun Anymore .
Tests: The bullets (1) penetrate through two pieces of wood and (2) through a piece of glass.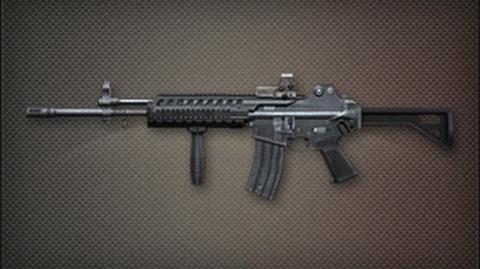 Ad blocker interference detected!
Wikia is a free-to-use site that makes money from advertising. We have a modified experience for viewers using ad blockers

Wikia is not accessible if you've made further modifications. Remove the custom ad blocker rule(s) and the page will load as expected.