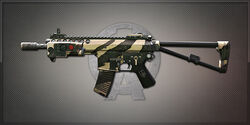 Overview
Edit
The KAC PDW is an excellent MP7ish PDW for pointman with more damage, accuracy and range. Its only drawback Being A Lower magazine and a expensive Price Tag
Modifications
Edit
Recommended Builds
Edit
This Guns Have Only Red Dot Mods and already Expensive, But If You Have Any Spare Money Go For It!
KAC PDW Origin
KAC PDW Coral
Treat it like MP7,33 ammo (more than euro version) but you can no longer Prefire,it has good range and damage so It Takes Less Ammo To Kill An Enemy.You Can Run Out Of Ammo Quickly So Primary Ammo + Is A Good Equipment To Have
Notable Comparisons
Edit
MP7 With Less Damage (27) Accuracy (42) And Range (20) But More Ammo (40).It Is Literally Almost The Same Gun Only With An Attachable Silencer
As with basically every other PDW, the KAC-PDW is intended to be compact and lightweight while keeping the firepower and range of the conventional assault rifle
From looking at the barrel, this might be the PDW 10 (10 inch).
Ad blocker interference detected!
Wikia is a free-to-use site that makes money from advertising. We have a modified experience for viewers using ad blockers

Wikia is not accessible if you've made further modifications. Remove the custom ad blocker rule(s) and the page will load as expected.