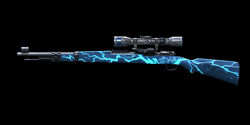 0.8s per bullet (4.0s for all 5 bullets)
"

The improved model of Kar98K. It's been remodeled with new parts to increase overall performance.

"



 

— Weapon Description 
The Kar98k Raijin is an improved version of the Kar98K, featuring higher stats overall. Previously, it was available through upgrading the original Kar98K with 100 Red Tickets, but has now been replaced by the Kar98K Jager. It's currently obtainable permanently through webmall promotions or tiered spenders.
Modifications
Edit
None
Recommended Builds
Edit
None
One Hit Kill %
Edit
Notes:
14 Armor equipped
10 shots per distance
Shot at the arms
Barrel: None 
Notable Comparisons
Edit
Ad blocker interference detected!
Wikia is a free-to-use site that makes money from advertising. We have a modified experience for viewers using ad blockers

Wikia is not accessible if you've made further modifications. Remove the custom ad blocker rule(s) and the page will load as expected.