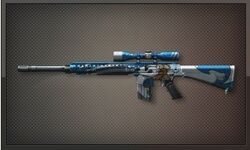 "

A caricature of the polar bear is deployed on this SR-25 model.New bullets increasing its power. R.I.P. Knut.

"



 

— Weapon Description 
Modifications
Edit
There are no modifications for this weapon.
Recommended Builds
Edit
There are no modifications for this weapon.
Notable Comparisons
Edit
Knut (German pronunciation: [ˈknuːt] ([1] listen); 5 December 2006 – 19 March 2011) was a polar bear who was born in captivity at the Berlin Zoological Garden. Rejected by his mother at birth, he was raised by zookeepers. He was the first polar bear cub to survive past infancy at the Berlin Zoo in more than 30 years. At one time the subject of international controversy, he became a tourist attraction and commercial success.[1] After the German tabloid newspaper Bild ran a quote from an animal rights activist that decried keeping the cub in captivity, fans worldwide rallied in support of his being hand-raised by humans. Children protested outside the zoo, and e-mails and letters expressing sympathy for the cub's life were sent from around the world.
Knut became the center of a mass media phenomenon dubbed "Knutmania" that spanned the globe and spawned toys, media specials, DVDs, and books. Because of this, the cub was largely responsible for a significant increase in revenue, estimated at about five million euros, at the Berlin Zoo in 2007. Attendance figures for the year increased by an estimated 30 percent, making it the most profitable year in its 163-year history.[2]
On 19 March 2011, Knut unexpectedly died at the age of four. His death was caused by drowning after he collapsed into his enclosure's pool while suffering from encephalitis."
- Information from Wikipedia; credit to all who contributed towards Knut's Wikipedia.
Ad blocker interference detected!
Wikia is a free-to-use site that makes money from advertising. We have a modified experience for viewers using ad blockers

Wikia is not accessible if you've made further modifications. Remove the custom ad blocker rule(s) and the page will load as expected.