This article is a stub. You can help Alliance of Valiant Arms Wiki by expanding it.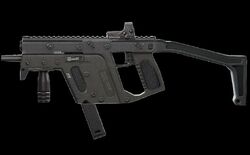 "

Although it uses blowback mechanism that operates with recoiling force, it is a special SMG with unique design of breechblock moving vertically to reduce kickback itself. Supports easy recoil control and high accuracy.

"



 

— Item Description 
The Kriss Super V, more commonly known as the Vector, is a Sub Machine Gun first introduced during the 9-16-10 Content update.
The Kriss Super V is considered a superior gun from distances less than 15 Meters, but damage dropoff makes the Super V less than effective beyond that. It features very high stability and DPS, making it a wonderful weapon in close combat. Great for rushing due to its high ROF and moderate damage, making it almost like a MP7A1 with a +6 damage boost. The recoil is manageable but eventually it sweeps side to side when sprayed. There is nearly no bloom on the Kriss Super V.
The Super V generally features favorable reviews and is considered one of the best Pointman weapons.
Modifications
Edit
Laser Sight (Mobility -0.7)
Custom Trigger (Recoil Control +1.1, Auto Fire -0.45)
Soft Grip (Accuracy -1.3, Auto Fire ACC -1.3)
Carbon Grip
Recommended Builds
Edit
Range (recommended)
Edit
This build increase DPS and helps you at mid range. It also makes headshots even easier.
Long Range Barrel
Soft Grip
Those mods are optional:
Due to the Kriss' high ROF and high stability, spraying is not recommended as you will expend your ammo really quickly. Rather you should keep the gun on target and put bullets into him. It's also a great gun for infection with its high DPS, but that also means that you'll run out very quickly. Note the low magazine capacity, that is, only 13 rounds (28 with magazine upgrade).
Of all non-capsule weapons, the Super V's range statistic is one of the smallest in the game for an automatic weapon, with only 19 points. Only shotguns, the SR-2M Veresk, the SR-3M, and the MP40 (capsule only) have lower range.
Kriss has one of the highest DPS of all SMG's.
This weapon is used by AI Bots in "Cannon: [AI] Demolition"
A common nickname for the Kriss Super V is the "Vector"
Ad blocker interference detected!
Wikia is a free-to-use site that makes money from advertising. We have a modified experience for viewers using ad blockers

Wikia is not accessible if you've made further modifications. Remove the custom ad blocker rule(s) and the page will load as expected.