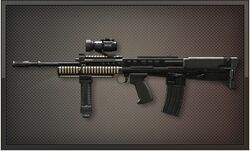 "

Unknown.

"



 

— Weapon Description 
An Upgrade L85A2 with improve stat ,better damage to make this gun more deadly.But it still suffer by it low Mobility .
Modifications
Edit
Dot (x2 HS) (+3 Accuracy)
ACOG (x4) (+6 Range)
Long Range Barrel (+2 Range ,-1 Stability)
Reinforced Rifling Barrel (+3 Damage ,-1 Stability ,-1 ROF)
Veteran mechanism (-1 Accuracy ,+2 Stability)
Recoil Control Stock (+1 Stability)
Recommended Builds
Edit
Dot (x2 HS)
Reinforced Rifling Barrel
Recoil Control Stock (optional)
Tap shoot like crazy ,recommend using any armor that allows you to move faster as the mobility with this weapon, as stated, is very low.
Notable Comparisons
Edit
L85A2 :The Rail ver has 2 more Damage (38 to 36) ,1 more Accuracy (65 to 64) ,1 more ROF(48 to 47).They share same Range (46) ,Stability (62) and Mobility (34)
STG 44 : Rail Have +1 Damage +1 Range - 9 Accuracy + 4 Stabillity -2 Mobillity + 3 Rof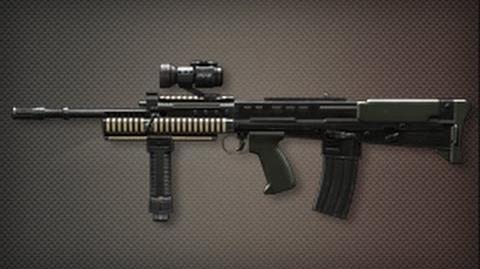 Ad blocker interference detected!
Wikia is a free-to-use site that makes money from advertising. We have a modified experience for viewers using ad blockers

Wikia is not accessible if you've made further modifications. Remove the custom ad blocker rule(s) and the page will load as expected.