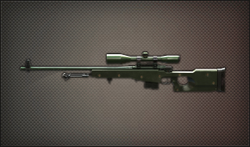 "

Precision sniper model of AI's that have been adopted to participate in the British army formality sniper rifle selection. Featured in the first model of the AW series, it boasts durability and high degree of perfection,the accuracy..

"



 

— Weapon Description 
The L96A1 is essentially an improved, blue-ticket version of the AWM: A fast scope time with good rate of fire paired with high damage and penetration The only trade is the horrible moveshot, comparable to that of an FR-F2. Like the FR-F2, quickswitching with the L96A1 is slower than re-zooming with the sharpshooter scope.
Modifications
Edit
Precise Scope
Quick Scope
Sharp Shooter Scope
Recommended Builds
Edit
Quick Scope - It's the fastest scope available
Sharp Shooter Scope - Fastest scope following the Quick Scope, nice double phase zoom.
One Hit Kill % 
Edit
| | |
| --- | --- |
| 30m | 100% |
| 40m | 100% |
| 50m | 100% |
Notes:
14 Armor equipped
10 shots per distance
Shot at the arms
Barrel: None 
Notable Comparisons
Edit
L96A1 is the British military designation for the Accuracy International Prescision Marksman, unlike most games that feature this rifle, AVA has gotten the designation and model right, so props to the dev team.
Ad blocker interference detected!
Wikia is a free-to-use site that makes money from advertising. We have a modified experience for viewers using ad blockers

Wikia is not accessible if you've made further modifications. Remove the custom ad blocker rule(s) and the page will load as expected.