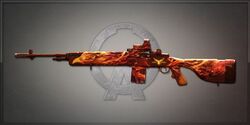 It was released in the 06-04-14 Content Update
"

Unknown.

"



 

— Weapon Description 
The DMR Hellfire is a skin of the M14 DMR but with an upgraded capacity so that it holds 22 bullets. Was obtainable as a mega capsule and sometimes purchasable on the online web store.
Modifications
Edit
MountEdit
Edit
Dot (2x) (+3 Range)
ACOG (4x) (+6 Range)
BarrelEdit
Edit
Long Range Barrel (+2 Range, -1 Stability)
Burst Barrel (+2 ROF, -1 Accuracy)
GripEdit
Edit
Aimed Shot Helper (Increases ADS hit rate)
Ergonomic Grip (+1 Accuracy)
StockEdit
Edit
Shock Absorber (+1 Accuracy, -1 Stability)
Recoil Control Stock (+1 Stability)
Recommended Builds
Edit
Long Range
Edit
This build gives the Hellfire much less bloom, less recoil, while maintaining DPS and vastly improving the range of the gun; these mods allow this gun to be used against snipers, at sniping ranges!
ACOG (4x)
Long Range Barrel
Ergonomic Grip
Recoil Control Stock
This gun becomes incredibly more potent when used for headshotting, as the massive damage per shot allows this gun to easily 1-shot headshot until extreme ranges.
Crouch-shot when using this gun; the crosshairs stay incredibly tight even after sustained fire, and recoil is lessened.
As with all battle rifles, such as the M14EBR or SA58 Para, this gun should be tapped, and not bursted or full-autoed.
Use this guns insane range to your advantage; this gun shines at ranges where other rifleman guns can't compete in.
Do not use the scope unless you are either crouched or shift-walking. The weapon has more crosshair bloom and camera recoil if you are moving rapidly while scoped in. However, when zoomed in from a stationary or slow-moving position, the extra magnification can be an asset for target acquisition. Also, the stability penalty for zooming in will be gone, replaced by a slight bonus.
Notable Comparisons
Edit
The Hellfire and M14EBR share the same range (52), mobility (40) and rof (42), but the Hellfire features higher damage (47 to 46) , higher accuracy (82 to 77) and higher stability ( 35 to 33 ). While both are best in the same scenarios, the improved bloom, recoil, and range of the Hellfire make it better than its older sibling.
Ad blocker interference detected!
Wikia is a free-to-use site that makes money from advertising. We have a modified experience for viewers using ad blockers

Wikia is not accessible if you've made further modifications. Remove the custom ad blocker rule(s) and the page will load as expected.