This article is a stub. You can help Alliance of Valiant Arms Wiki by expanding it.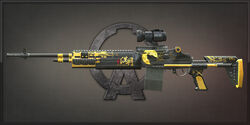 "

[The M14 Fullmoon] clouds in a beautiful elegance, all pictured on this AR model

"



 

— Weapon Description 
Released in the 04-09-14 Content Update.
This Guns is Desinged as A M14EBR with a howling wolf design. However it shares the stats of the M14 DMR.
Modifications
Edit
MountEdit
Edit
Dot (2x) (+3 Range)
ACOG (4x) (+6 Range)
BarrelEdit
Edit
Long Range Barrel (+2 Range, -1 Stability)
Burst Barrel (+2 ROF, -1 Accuracy)
GripEdit
Edit
Aimed Shot Helper (Increases ADS hit rate)
Ergonomic Grip (+1 Accuracy)
StockEdit
Edit
Shock Absorber (+1 Accuracy, -1 Stability)
Recoil Control Stock (+1 Stability)
Recommended Builds
Edit
This build gives the M14 Fullmoon much less bloom, less recoil, while maintaining DPS and vastly improving the range of the gun; these mods allow this gun to be used against snipers, at sniping ranges!
ACOG (4x)
Long Range Barrel
Ergonomic Grip
Recoil Control Stock
Notable Comparisons
Edit
Recoil Comparision M14 DMR VS M14 Fullmoon Seems Same Or ?
www.youtube.com/watch?v=5RlNGdEANr8
GIF Gallery
Edit
Ad blocker interference detected!
Wikia is a free-to-use site that makes money from advertising. We have a modified experience for viewers using ad blockers

Wikia is not accessible if you've made further modifications. Remove the custom ad blocker rule(s) and the page will load as expected.