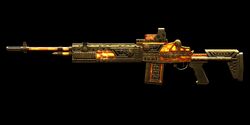 The M14 Golden Lord is an upgraded variant of the M14 Battleship, was available in the in-game fortune stars capsule shop for 2000 EMP. Compared to the original, the ammo capacity was upgraded to hold 2 more rounds.
Modifications
Edit
None
This is a tap-style gun, which means that if you can tap single bullets in rapid succession, the gun almost becomes a laser. Always aim for the head when you can, or pelvis/chest otherwise.
Notable Comparisons
Edit
The gun design was part of a series with an mystical/alien motif
Ad blocker interference detected!
Wikia is a free-to-use site that makes money from advertising. We have a modified experience for viewers using ad blockers

Wikia is not accessible if you've made further modifications. Remove the custom ad blocker rule(s) and the page will load as expected.