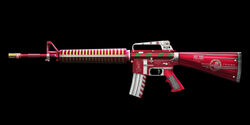 "

A custom variant of the M16A2 with Christmas theme. This version will be a lucky charm to bless soldiers during Christmas holiday season.

"



 

— Weapon Description 
The M16A2 Noel is a skinned variant of the original M16A2. It was released in the original line of Christmas themed guns.
Modifications
Edit
Barrel
Long Range Barrel (+9.1 Range, -1.7 Recoil Control)
Burst Barrel* (+0.52 AutoFire, -1.0 Accuracy, -0.8 AutoFire ACC)
Stock
Light Stock (+1.9 Mobility)
Shock Absorber (+3.2 Accuracy, +2.8 AutoFire ACC)
Note: The Burst barrel (silicon grip?) makes the M16A2
significantly more difficult to control, and is not recommended overall unless you have much experience with high-bloom weaponry. The Long Range Barrel is (for the standard player) the more useful choice as it takes advantage of the M16's naturally good stability over longer ranges.
For more inexperienced players, it is recommended not to have any mods at all.
See M16A2
Notable Comparisons
Edit
Ad blocker interference detected!
Wikia is a free-to-use site that makes money from advertising. We have a modified experience for viewers using ad blockers

Wikia is not accessible if you've made further modifications. Remove the custom ad blocker rule(s) and the page will load as expected.