"

Assault rifle based on the venerable AR-10, chambered for 5.56mm x 45 ammunition. The weapon is relatively small and light but still capable of precision fire.

"



 

— Weapon description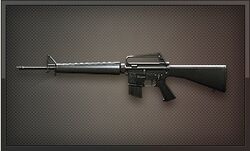 The M16 VN is an assault rifle produced by Colt. It was released in the 06-04-14 Content Update.
Low recoil and good accuracy. Very fun gun to use, reloads like the Ak-107 bis. It's damage is above average and it should take a few shots in order to achieve a kill. When crouched, it has no recoil at all, and can easily laser an opponent from across the map. The weapon has somewhat wide crosshairs, but overall accuracy is extremely high, allowing to headshot snipers with a single bullet from across the map. Though it may have many advantages, the only disadvantage is it's small magazine consisting of 20 rounds in one magazine. Reloads will be frequent resulting in the user to engage in less combat and cover will be necessary. The small magazine is the only thing keeping this gun from being more op than it already is, but it's laser accuracy and stability compensate for the low ammo, allowing the user to get a kill within seconds. This gun is comparable to a prenerf r4 mixed with m16a4 and hk416 - Decent rof, high accuracy and range, and amazing stability.
Modifications
Edit
Heavy Barrel (Range +3.5, Accuracy +1.5, Auto Fire ACC +1.3, Recoil Control +0.1)
Long Range Barrel (Range +6.1)
Spetsnaz Edition (Auto Fire ACC +1.3, Mobility -3.0)
Recommended Builds
Edit
Long Range Build- Using Long Range Barrel with this gun makes it achieve consistent headshots and improved range damage. The other mods don't really work with this gun since Heavy Barrel reduces the already somewhat low rof, and spetz just doesn't improve it's accuracy at all.
Best to crouch and use range at advantage. The laser recoil allows you to land 4 shots on top of each other in a second, 3 shots if a headshot can be made. Use cover during reloads, and watch ammo count during gameplay since it runs out rather quickly.
Notable Comparison
Edit
Remington R4, M16a4, Hk416, Arx-160.
In KAVA this rifle is called the "M16A1 VN", this is incorrect as the rifle has no forward assist, this makes it an SP-1 which is the original select-fire M16.
While the M16 is notorious for it's terrible reliability in the Vietnam War, there were many other factors that caused this such as: The rifles were originally shipped without cleaning kits or even cleaning rods, the use of old corrosive powder by the US Military, the wet and humid weather of Vietnam which means the rifle's were constantly wet, couple all that with the fact that most belived the M16 "cleaned itself" resulted in huge reliability problems.That being said, if the rifle was kept clean and maintained it would preform fine.
The "VN" in its name stands for VietNam.
Ad blocker interference detected!
Wikia is a free-to-use site that makes money from advertising. We have a modified experience for viewers using ad blockers

Wikia is not accessible if you've made further modifications. Remove the custom ad blocker rule(s) and the page will load as expected.