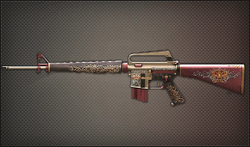 "

Royal edition of the venerable M16 VN, manufactured to the highest quality standards with only the most select of materials.

"



 

— Weapon Description 
It was released in the 07/31/14 Content Update. It is part of the Queen of Liberty capsule.
Just like it's original variant; the M16 VN , the M16 VN May Queen has excellent accuracy and stability at the cost of magazine size. It's damage is above average and it should take a few shots in order to achieve a kill. Though it may have many advantages, the only disadvantage is it's small magazine consisting of 20 rounds in one magazine. Reloads will be frequent resulting in the user to engage in less combat and cover will be necessary.
Modifications
Edit
Heavy Barrel (Range +3.5, Accuracy +1.5, Auto Fire ACC +1.3, Recoil Control +0.1)
Long Range Barrel (Range +6.1)
Spetsnaz Edition (Auto Fire ACC +1.3, Mobility -3.0)
Recommended Builds
Edit
Notable Comparisons
Edit
GIF Gallery
Edit
Ad blocker interference detected!
Wikia is a free-to-use site that makes money from advertising. We have a modified experience for viewers using ad blockers

Wikia is not accessible if you've made further modifications. Remove the custom ad blocker rule(s) and the page will load as expected.