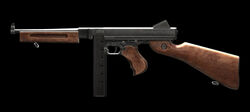 "

One of the early submachine guns designed and manufactured by Thompson, a retired U.S. Army general. This submachine gun has been dearly cherished for its rock-solid durability and use of high-powered ammunition. It is one of the most famous weapons used by the Americans in World War II.

"



 

— Weapon Description 
The M1A1 Thompson is a Sub Machine Gun that was first added during the 11-11-10 Content Update.
The M1A1 Thompson has notably high ROF to damage ratio and is notable for it's easy to control recoil
Notable Comparisons
Edit
Ad blocker interference detected!
Wikia is a free-to-use site that makes money from advertising. We have a modified experience for viewers using ad blockers

Wikia is not accessible if you've made further modifications. Remove the custom ad blocker rule(s) and the page will load as expected.