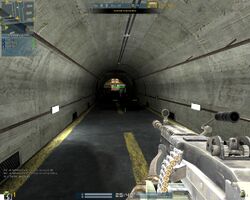 The M249 is a portable machine gun found in AI Annihilation, Prison Break (Escape), and Infection. Each new instance the M249 is found in has different variations from the basic model found in Prison Break (Escape), which are modified to adapt the conditions of the game mode.
Basic - The Prison Break Escape and AI suppression . M249 is rather basic in its functionality, serving to suppress high numbers of prisoners at the cost of mobility and reload speed. It is found in a secret room upon entering the second area.
M249 Red Tiger - The AI Annihilation M249 is skinned differently that the basic M249 (with a Red Tiger camo), named Weapon and possesses an insane reload speed that can compete with even Sub-Machine Guns. It is held by the NRF leader when he enters and is dropped when he is killed.
M249 Leopard - The strongest variant of the M249. The Infection M249 is an occasional drop found when Airlift Reinforcement drops in. It is highly effective against the zombies and can even knock them back from the sheer power.
The ingame rifle is an M249-E2 SAW, it has also been modified with a full synthetic stock and a heat shield.
The M249 is the only Miscellaneous weapon to have variants of its basic model
The M249 does not have an icon when it dropped in AI Annihilation, unlike the M82A3 Barrett( Update: Now the M249 have an icon when dropped in AI Annihilation.)
The M249 in AI Annihilation is named Weapon when equipped, an ironic label
The M249 in the game is modeled with a 200-round ammo drum, yet holds nowhere near that much ammo, only holding half that amount at most.
In Thailand server , player are awarded with M249 Red Tiger (1 day) after completed tutorial .
When picked up "Weapon" (M249 In AI Anihilation) the game says " Snagged an item " instead of " Get Weapon "
In Prison Break (Escape), the secret door that holds the M249 has a chance of spawning either a bucket or the M249. Rumor has it that opening the secret door makes the level harder, which turns off all players from opening the secret door unless they have a reliable team, or an expert player to be able to take the risk.
Ad blocker interference detected!
Wikia is a free-to-use site that makes money from advertising. We have a modified experience for viewers using ad blockers

Wikia is not accessible if you've made further modifications. Remove the custom ad blocker rule(s) and the page will load as expected.