This article is a stub. You can help Alliance of Valiant Arms Wiki by expanding it.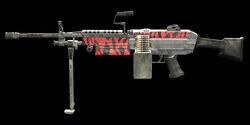 "

A custom variation of the M249. It uses a 100-round cartridge belt, which provides great firepower.

"



 

— Weapon Description 
The M249 Red Tiger is an custom variant of the M249. Prior to its shop release on UAVA, it could only be obtained by killing the NRF leader in AI Annihilation. It is now available for purchase.
This is a good Co-op and infection type weapon. If used properly in PVP modes it is highly effective. Its move shot is horrible as the cross-hair can go off the screen, crouching is a must. Uncrouched the recoil is quite high, but low enough to kill enemies at close range. Generally it is advisable to use a solid secondary with this weapon as it is a bad decision to run with this weapon and you will need your secondary to protect yourself while you reposition the gun. Other than being slow, moveshot accuracy is awful. This weapon is not good if you like playing alone as opposed to sticking together with your team. This gun is excellent for pinning down enemy troops and supporting advancing friendlies. It is confirmed that the M249 Red Tiger has the highest DPS out of all the weapons in the game.
Modifications
Edit
This gun has no modifications. 
Recommended Builds
Edit
This gun has no modifications. 
Because of its RoF and clip size, this weapon is great for infection and co-op.
It's the ultimate Tower Defending rifle available on AVA
Make sure to crouch and zoom for the best accuracy and stability.
Notable Comparisons
Edit
This is the second buyable light machine gun on UAVA.
This is the first weapon to have an ammo count of 100.
This weapon has the highest rate of fire out of all of the purchasable guns, as shown on the stats, surpassing even the MP7A1's (modded) famous 84 maximum rate of fire. 
This gun is popular with Tower Defenders see: Tower Defending http://ava.wikia.com/wiki/Tower_Defending
GIF Gallery
Edit
Ad blocker interference detected!
Wikia is a free-to-use site that makes money from advertising. We have a modified experience for viewers using ad blockers

Wikia is not accessible if you've made further modifications. Remove the custom ad blocker rule(s) and the page will load as expected.