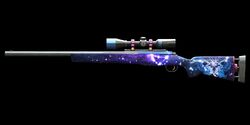 "

M24 Capricorn symbolizes the combination of patterns and colors to test an experimental model of a special powder coating.

"



 

— Weapon Description 
A sniper rifle released in the 09-03-14 Content Update.
The M24 Capricorn is a skinned variant of the M24 Fleur-de-lys. It was originally released in the Stars Box in the capsule shop, along with the F2000 Taurus and K-2 Virgo. Statistically and performance-wise, it is identical to the Fleur-de-lys (with +1 Bullet per magazine).
Notable Comparisons
Edit
A little bit more tanky than the mosin, but both are fast, agile snipers capable of performing outstanding rushes
GIF Gallery
Edit
Ad blocker interference detected!
Wikia is a free-to-use site that makes money from advertising. We have a modified experience for viewers using ad blockers

Wikia is not accessible if you've made further modifications. Remove the custom ad blocker rule(s) and the page will load as expected.