This article is a stub. You can help Alliance of Valiant Arms Wiki by expanding it.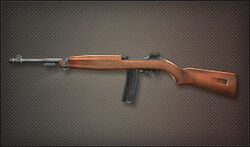 "

A custom variation of the M1 Carbine, widely used in both World War 2 and the Korean War. While retaining the advantages of portability and accuracy of the original rifle, its striking power has improved greatly with the new automatic mode with a 30-round magazine.

"



 

— Weapon Description 
The M2 Carbine is an Assault Rifle first introduced during the 05-13-10 Content Update.
The M2 Carbine can be viewed several ways. To many people, the M2 Carbine is a bad weapon due to its insanely low damage (29) for a Rifleman weapon. However, the incredible range (70) and high ROF (75) makes it good for CQB. The high range the M2 Carbine has keeps every shot at 29 damage, no more no less, as it is commonly known that the lower the range is, there will be a greater damage penalty over a certain amount of meters. However, the stability of 35, which is pretty low, forces the user to use it like a FG42, where tapping or 2 round bursting is a must. It would be never fired fully auto unless the enemy is within 5 meters.
Modifications
Edit
The M2 Carbine cannot be modified due to it being a capsule weapon.
Recommended Builds
Edit
The M2 Carbine cannot be modified due to it being a capsule weapon.
There are no known variants of the M2 Carbine.
Aim for the HEAD! Though the M2 Carbine has lacking damage, it has incredibly high range, which, if the round hits the head, can put the enemy down to 10-20 HP even at 40 meters. Therefore, the M2 Carbine can easily 2 shot headshot or 1 shot headshot and 1 body shot, regardless of armor. However, the M2 Carbine is very much like the M16A2. It takes 4-5 shots to kill if the shots hit the body.
Notable Comparisons
Edit