This article is a stub. You can help Alliance of Valiant Arms Wiki by expanding it.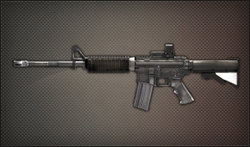 "

An enhanced version of the M4A1. The barrel has been replaced with high-strength alloy steel, and special material in its internal parts and butt stock have been used to increase accuracy and recoil control.

"



 

— Weapon Description 
The M4A1 Mk.4 was featured in the May 8, 2014 release. The Mk.4 is very similar to the eX-plorer, though does not feature the +1 damage per kill. Due to the release of the Mk.4, the M4A1 Mk.3 has changed back into its original name (M4A1 Mk.3). This gun is available for perm at the cost of 70,000 euros.
An better upgraded version of the notorious M4A1 Carbine with some more Acc ,much more range and "mk.3 nerf" Stab (it still 58 though).Like the Mk.3 this type is unable to mod.
Modifications
Edit
This gun has no modifications available.
Recommended Builds
Edit
This gun has no modifications available.
Notable Comparisons
Edit
AK47 MK.4
In JAVA,KAVA ,this gun replace the Mk.3 and make it the name "M4A1".The Mk.3 replace back to "M4A1 Mk.3"
Ad blocker interference detected!
Wikia is a free-to-use site that makes money from advertising. We have a modified experience for viewers using ad blockers

Wikia is not accessible if you've made further modifications. Remove the custom ad blocker rule(s) and the page will load as expected.