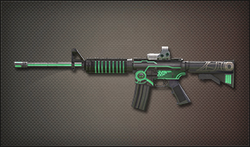 "

A weapon painted with an unique pattern and used by rogue troops. A very mysterious model...

"



 

— Weapon Description 
The M4A1.MK3 Roswell is an Assault Rifle first introduced in "Lord of War" Tier Spender at 2013-05-16.
The M4A1 MK.3 Roswell is a cosmetic variant of the M4A1 MK.3. It can only be obtained through tiered spenders, mystery boxes, loot wheels, and loot forges offered by Aeria Games. Thus, the M4A1 MK.3 Roswell is very hard to obtain permanent, just like the M4A1 Freedom is too (the chances of winning it permanent is very little, as there is a higher probability of winning it timed for a certain amount of days). The M4A1 MK.3 Roswell features the unique, glowing, green pattern of the and the Alienware logo.
Modifications
Edit
Unlike other modifiable weapons of the , the M4A1 MK.3 Roswell cannot be modded since the original M4A1 MK.3 cannot be modded as well.
Recommended Builds
Edit
The M4A1 MK.3 Roswell cannot be modified.
Notable Comparisons
Edit
Ad blocker interference detected!
Wikia is a free-to-use site that makes money from advertising. We have a modified experience for viewers using ad blockers

Wikia is not accessible if you've made further modifications. Remove the custom ad blocker rule(s) and the page will load as expected.