This article is a stub. You can help Alliance of Valiant Arms Wiki by expanding it.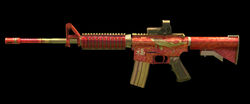 "

A custom variant of the M4A1 with specialized custom parts to improve overall performance. The design is of a New Year's celebration memorabilia and is said to bring good luck to soldiers who use it in the battlefield.

"



 

— Weapon Description 
The M4A1 Carpio is a Euro Capsule weapon released in the 6/6 patch update. It features a red and gold color scheme and a Dot(x2 HS) scope. It is the third variant of the M4A1. The gun is essentially a MK3 with a paintjob.
An upgraded version of the notorious M4A1 Carbine. Possessing lower then average damage, but a very high rate of fire (thus remarkable DPS), as well as low recoil and bloom.
This weapon cannot be obtained by upgrading the original M4A1, it must be purchased separately as another weapon for 180 Blue Tickets.
The Weapon was nerfed in the update that took place on 9/24/12. Both the M4 MK3 and the M4 Carpio have had their accuracy reduced.  The M4 Freedom and M4 Peony/Paeonia are the only M4 variants that retains pre-nerf M4 MK3 behavior.
Modifications
Edit
Not available
Close range (0-10m) - Full-auto on head. With its stability, and accuracy (also move shots accuracy) it is easy to get headshots
Mid range (10-35m) - Long bursts at head, little closer (15-25m) you cant also go full-auto also on head.
Long range (35m+) - Crouch, zoom and burst fast. Avoid snipers.
Move shots - Burst. Only in very close range you should go full-auto
GIF Gallery
Edit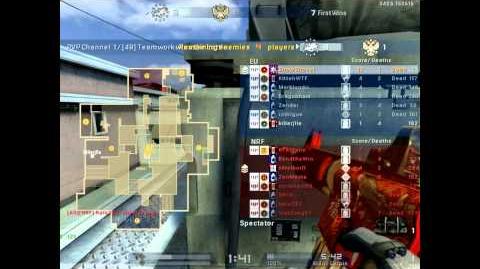 Ad blocker interference detected!
Wikia is a free-to-use site that makes money from advertising. We have a modified experience for viewers using ad blockers

Wikia is not accessible if you've made further modifications. Remove the custom ad blocker rule(s) and the page will load as expected.