This article is a stub. You can help Alliance of Valiant Arms Wiki by expanding it.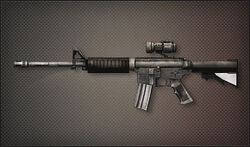 "

An enhanced version of the M4A1. The barrel has been replaced with high-strength alloy steel, and special material in its internal parts and butt stock have been used to increase accuracy and recoil control.

"



 

— Weapon Description 
The M4A1 MK.3 is a Rifleman weapon released in the ___ Content Update. It is a variant of the M4A1.
An upgraded version of the notorious M4A1 Carbine. Possessing lower then average damage, but a very high rate of fire (thus remarkable DPS), and very low recoil, the M4 Mk.3 has quickly become one of the most popular weapons in the game, powerful and reliable enough to compete with many capsule weapons.
One of the interesting aspects of the M4A1 MK3 is that is is unable to have modifications, which was one of the biggest draws to the original M4A1. However, few complain about this as the Mk. 3 has better stats overall to compensate and by modifying the MK.3, the weapon could become blatantly overpowered.
This weapon cannot be obtained by upgrading the original M4A1, it must be purchased separately as another weapon.
The Weapon was nerfed in the update that took place on 9/24/12. It was nerfed to have less stability and increased accuracy. The nerf changed the once non-existent recoil to a T shape recoil pattern, while the crosshair was slightly enlarged. The accuracy was supposedly increased but due to the M4MKIII having horrible first shot accuracy, it was pointless. Despite this however, the MK.3 remains a fairly popular Rifleman weapon in the game.
Due to the January 29, 2014 update, the M4A1 Mk.3 has been renamed to M4A1, while the M4A1 has been renamed to be M4A1 Origin, and cannot be purchased.
But in the May 8th update, the M4a1 Mk.3 was changed back to its original name (M4A1 Mk.3) due to the release of the M4A1 Mk.4.
Modifications
Edit
This gun has no modifications available.
Recommended Builds
Edit
This gun has no modifications available.
Notable Comparisons
Edit
M4A1 MK.3 has more damage (34 to 32) then regular M4A1, more accuracy (68, 65) and more stability (60, 52). MK.1 has higher RoF (67 to 65), and has the capacity to be modded (quite substancially). They share identical mobility (55), almost identical range (Mk1 has 42, Mk3 has 43) and a same size clip (30)
Note: With mods, the M4A1 can gain an additional 3 RoF, making it more effective at close range than the Mk3.
AK47 MK.3
Edit
M4A1 MK.3 has much higher stability (60 to 50), much higher mobility (55 to 45), and MUCH higher RoF (65 to 42). The AK-47 MK.3 has noticibly higher Damage (40 to 34), higher range (48, 43) and Much higher accuracy (76, 68). Both "MK.3's" share the same size clip (30)
K1A1 Rail
Edit
K1A1 is carbine for Pointman based on the M16 series. M4A1 MK.3 has MUCH higher range (43 to 28), and MUCH higher accuracy (68 to 40). K1A1 Rail has MUCH more mobility (70 to 55), and has the capacity to be modded. They share almost identical Damage (K1's 35 to mk3's 34) and Rate of Fire ( K1's 67 to Mk3's 65) and thus share an almost identical DPS. They also share a same size clip (30)
Ad blocker interference detected!
Wikia is a free-to-use site that makes money from advertising. We have a modified experience for viewers using ad blockers

Wikia is not accessible if you've made further modifications. Remove the custom ad blocker rule(s) and the page will load as expected.