This article is a stub. You can help Alliance of Valiant Arms Wiki by expanding it.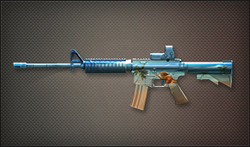 "

Custom variant of M4A1

"

 

— Weapon Description 
The M4A1 Marine is an Assault Rifle, custom variant of M4A1 in JAVA. The weapon was originally named M4A1 Ocean,and is renamed to M4A1 Marine in UAVA.
Like most M4A1 MK.3 variants, the M4A1 Marine has a permanent Red Dot Sight [x2] attached. Despite the fact that the M4A1 Marine statistics are identical to the M4A1 MK.3's, the M4A1 Marine still retain's the M4A1 MK.3 prenerfed statistics, having a slightly tighter crosshair and slightly less recoil. However, the "T" shaped recoil spray pattern is still present, just like all M4A1 MK.3 variants.
This gun is a part of the new welcome package. You will obtain a permament version if you spent AP for the first time !
Modifications
Edit
No Modifications
Recommended Builds
Edit
Treat it just like a M4A1 MK.3, as it is similar, yet slightly easier to use, as in a more "user friendly" version of the M4A1 MK.3.
Notable Comparisons
Edit
M4A1.MK3 Freedom is the same gun, just has a different Design & Name.
Ad blocker interference detected!
Wikia is a free-to-use site that makes money from advertising. We have a modified experience for viewers using ad blockers

Wikia is not accessible if you've made further modifications. Remove the custom ad blocker rule(s) and the page will load as expected.