"

A custom-painted model that features classic hand-carved gold patterns, based on the M4A1 Bald Eagle. It features a new magazine with an increased capacity.

"



 

— Weapon Description 
The M4A1 Talisman is an upgraded variant of the M4A1 MK.4. It was originally released as a line of skins in Aeria's webmall, along with the Ballista Talisman, MP7A1 Talisman and Togarev Talisman. Statistically and performance-wise, it is identical to the M4A1 Bald Eagle.
The gun boasts on overall higher performance over the MK.4. It has increased ACC and Auto-ACC while at the same time having no downgrades.
The exterior of the gun clearly has Asian-inspired aspects to it. It's main colour is an oriental red, with gold accents that create the image of a dragon's face on the side of the gun. Hanging off of it is an oriental-styled talisman, hence the name of the gun.
Modifications
Edit
None
When you draw the gun, the player adjusts the dial on the side of the Red Dot Sight, cloning the draw animation of the X-plorer and X-plorer Blaster.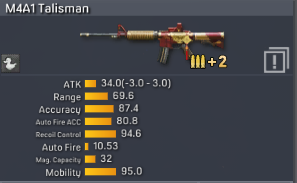 Ad blocker interference detected!
Wikia is a free-to-use site that makes money from advertising. We have a modified experience for viewers using ad blockers

Wikia is not accessible if you've made further modifications. Remove the custom ad blocker rule(s) and the page will load as expected.