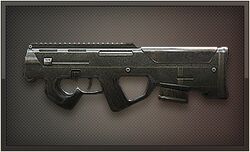 "

The Magpul PDR is a bullpup Personal Defense Weapon (PDW) resembling the FN P90 that fires the 5.56x45mm NATO round.

"



 

— Weapon Description 
The PDR is made by American company called Magpul. It was released in the 04-09-14 Content Update.
This is an average gun similar to P90 Harimau with less ROF, less ammo but higher damage.An "all around gun" don't have silence.Its like an buff MP7A1 but penetration is not very good enough although its 35 Dm
Modifications
Edit
Burst Barrel (-1.2 Accuracy ,-1.1 Auto ACC, +0.65 ROF)
Sharpshooter Barrel (+1.2 Accuracy, +1.2 Auto ACC ,-2.41 ROF)
Veteran mechanism (-1.2 Accuracy ,-1.1 Auto ACC)
Lighter Trigger (+0.2 Auto ACC)
Recommended Builds
Edit
Dot (x2 HS)
Burst Barrel
Veteran mechanism
With this mods it makes it an excellent mid range SMG due to low recoil. Although it has low recoil it has also low ROF so it wont match up in CQB against high ROF rifles unless you can get the headshots off. Make use of its low recoil and go nuts with the trigger if u get a flank off.
Notable Comparisons
Edit
GIF Gallery
Edit