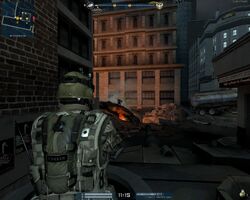 General-Purpose Machine Gun
The MG3A1 Machine Gun, or Leopard-Machine Gun as it is named in-game, is a weapon than can only be found mounted on the tank in Escort. It has deadly damage and range alongside an insane ROF and magazine size equipped with unlimited reserve ammo. The only downside to using this weapon is that being put in the gunner's seat leaves the player susceptible to RPG-7 and Sniper fire, both easy kills with the tank's low mobility.
The MG3A1 is the only weapon in the game that is operated from a third-person perspective instead of the normal first-person view.
Ad blocker interference detected!
Wikia is a free-to-use site that makes money from advertising. We have a modified experience for viewers using ad blockers

Wikia is not accessible if you've made further modifications. Remove the custom ad blocker rule(s) and the page will load as expected.