"

Developed by the US Navy, The CQBR replaces the M4 with a shorter barrel making it the modern equivalent of the short-barrel M16 variants of the past. The barrel makes the weapon significantly more compact, which makes it easier to use in and around vehicles and in tight confined spaces

"



 

— Weapon description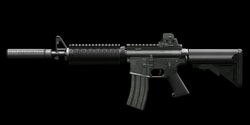 The MK18 MOD 0 is a Pointman carbine available in the in-game shop permanently for 60,000 euros. The MK18 comes with an unremovable suppressor.
Modifications
Edit
No available modifications.
Recommended Builds
Edit
No available modifications.
Burst firing is recommended when engaging in medium range fire fights. Fire fights at typical sniper ranges should be avoided.
Notable Comparisons
Edit
The supressor is a KAC QDSS NT4
GIF Gallery
Edit
Ad blocker interference detected!
Wikia is a free-to-use site that makes money from advertising. We have a modified experience for viewers using ad blockers

Wikia is not accessible if you've made further modifications. Remove the custom ad blocker rule(s) and the page will load as expected.