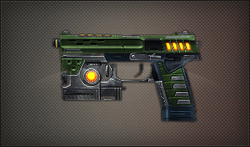 "

Distinctive pistol model with an exterior custom motif inspired by the Tempest in BattleGear mission.

"



 

— Weapon Description 
The MK.23 Tempest is a pistol officially released in the _____ Content Update.
Modifications
Edit
Recommended Builds
Edit
Treat the MK.23 Tempest as if it was a MK23 Socom, as the MK.23 Tempest is just a reskin.
Notable Comparisons
Edit
The MK.23 Tempest is the exactly the same, statistic wise, as the MK23 Socom.
The MK.23 Tempest could have been received permanently byspending 300 G Coins between 4/14/2012 and 4/15/2012 through the MK.23 Tempest Rewards Promotion. It could have also been obtained through Aeria Game's Tiered Spender.
Ad blocker interference detected!
Wikia is a free-to-use site that makes money from advertising. We have a modified experience for viewers using ad blockers

Wikia is not accessible if you've made further modifications. Remove the custom ad blocker rule(s) and the page will load as expected.