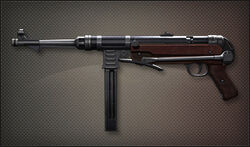 "

The most famous SMG model, symbolic of the German troops of the World War 2. This unique design is made with plastic parts with press fabrication, eliminating wooden parts.

"



 

— Weapon Description 
The MP40 is a Capsule Shop Sub Machine Gun that was first introduced during the 08-12-10 Content Update.
In A.V.A., the MP40 can not be obtained from the shop. It can, instead, be bought in the Capsule Shop for either 10 or 20 G coins per capsule. The MP40 does not have outstanding attack, but has good stability and coupled with its high rate of fire, it more than makes up for the lack of damage. However, the MP40 is a Sub Machine Gun, and it must be kept in mind that this is not the best at long ranges. The MP40 has 32 rounds per magazine and has 80 spare rounds for your disposal.
Modifications
Edit
Recommended Builds
Edit
Notable Comparisons
Edit
Built in Germany starting in 1938, the MP40 is the successor of the MP38. It has a 9x19 Parabellum cartridge and its magazine can hold 32 rounds. Nicknamed the "Schmeisser" by Allied forces because of a previous maker of the MP series, it featured a number of improvements, mostly the materials it was composed of. These improvements cut down on cost, but the gun was still expensive to produce. The MP40 was mainly issued to officers and paratrooper squads due to its price, and also partially because the German Wehrmacht's primary weapon was the Mauser 98k. The German losses at Stalingrad and other key battles in the U.S.S.R. were in some part due to the fact that the Russian tactics were more effective. Often times an entire battalion of Russians could be well equipped, each soldier with a PPS42 or a PPSh41, whereas the Germans never had enough MP40s. In 1943, the Germans began to work on the MP43/44, which would replace both the MP40 and the Mauser 98k.
Ad blocker interference detected!
Wikia is a free-to-use site that makes money from advertising. We have a modified experience for viewers using ad blockers

Wikia is not accessible if you've made further modifications. Remove the custom ad blocker rule(s) and the page will load as expected.