This article is brand new! As such, some important information is currently missing.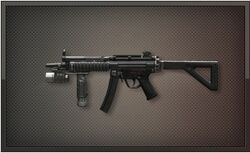 "

A modification of the MP5K. Improved rail and optimized bullets allow higher power and expandability.

"



 

— Weapon Description 
The MP5K Mod 0 is a submachine gun added in the _____ content update. In the 4/09/14 update, the Mp5k Mod 0 became the new default weapon, and was given to everybody in AVA.
The MP5K Mod 0 became the new default weapon for everybody in UAVA. The Mod 0 is very similar to its predecessor, though features a higer ROF with the cost of some range dropoff. Though this gun is very weak, it is very sprayable. With a some training, this gun may become your new best killing machine buddy.
Modifications
Edit
Mount
Dot(x2 HS)
Trigger
Stability Upgrade (+0.7 Control, -0.45 RoF)
Mechanism Improverment (-0.1 Auto ACC, +0.83 Auto Fire)
Grip
Silicon Grip (+0.4 Auto ACC)
Ergonomic Grip (+1.1 Accuracy, +1.1 Auto ACC)
Recommended Builds
Edit
Stability Upgrade
Silicon Grip
Dot (optional)
Notable Comparisons
Edit
Training MP5K Mod 0 contains an unremovable EOTech sight, and no customizations.
Adding the stability upgrade and silicon grip appears to add more than just +2 +1. When firing full auto, the crosshair stability appears and feels to be much more improved than shown on the statistics.
GIF Gallery
Edit
Ad blocker interference detected!
Wikia is a free-to-use site that makes money from advertising. We have a modified experience for viewers using ad blockers

Wikia is not accessible if you've made further modifications. Remove the custom ad blocker rule(s) and the page will load as expected.