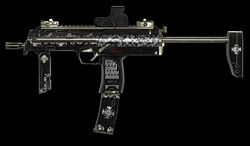 "

A variant of the MP7A1 selected via a design contest. It features a larger magazine and an elegant cross battern inlaid with silver on the plastic-plymer surface.

"



 

— Weapon Description 
The MP7A1 Cross Patonce is a skinned version of the MP7A1. It was first made available in the Trooper Box in the capsule shop along with the SCAR-L Trooper and C7A2 Maple Damask. Statistically and performance-wise, it is identical to the MP7A1.
See MP7A1
Modifications
Edit
Laser Sight (Mobility -0.7)
Adv. Silencer (No damage dropoff when a silencer is attached, it is not recommended since reduce penetration to zero)
Burst Barrel (Accuracy -0.8, Auto Fire ACC -0.5, Auto Fire +0.90)
Sharp Shooter Barrel (Accuracy +1.4, Auto Fire ACC +1.2, Auto Fire -0.94)
Mechanism Improvement (Auto Fire ACC -0.5, Auto Fire +0.90)
Precision Trigger (Accuracy +1.7, Auto Fire ACC +1.5)
Lightened Trigger (Accuracy +0.4, Auto Fire ACC +1.2)
Silicon Grip (Accuracy +0.3, Auto Fire ACC +0.8)
Ergonomic Grip (Accuracy +1.1, Auto Fire ACC +0.9)
Notable Comparisons
Edit
Ad blocker interference detected!
Wikia is a free-to-use site that makes money from advertising. We have a modified experience for viewers using ad blockers

Wikia is not accessible if you've made further modifications. Remove the custom ad blocker rule(s) and the page will load as expected.