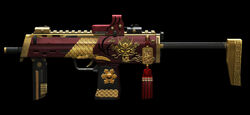 "

A custom-painted model, based on an MP7A1 Bahamut, that features gold-plating and an elegant tassel. It features a new magazine with an increased capacity.

"



 

— Weapon Description 
The MP7A1 Talisman is a skinned variant of the MP7A1 Bahamut. It was originally released in a line of skins in Aeria's webmall, along with the M4A1 Talisman , Ballista Talisman and Togarev Talisman. Statistically and perfomance-wise, it is identical to the Bahamut (with +3 Bullets per magazine).
See MP7A1 Bahamut
The exterior of the gun clearly has Asian-inspired aspects to it. It's main colour is an oriental red, with gold accents that create the image of a dragon's face on the side of the gun. Hanging off of it is an oriental-styled talisman, hence the name of the gun.
Modifications
Edit
None
Ad blocker interference detected!
Wikia is a free-to-use site that makes money from advertising. We have a modified experience for viewers using ad blockers

Wikia is not accessible if you've made further modifications. Remove the custom ad blocker rule(s) and the page will load as expected.