This article is a stub. You can help Alliance of Valiant Arms Wiki by expanding it.
"

Military semi-automatic sniper rifle designed by H&K. The famous PSG-1 was modified into military use. It has the most precision among many semi-automatic rifles.

"



 

— In-game Description 
The MSG90A1 is a weapon for the Sniper class first introduced during the 07-11-12 Content Update, along with Kevlar Defense +5 (AVA SEA).
The MSG90A1 is removed from the In-game shop and replaced by the upgraded version: MSG90A1 MOD 0. Players can keep their weapon if it is in their inventory.
The MSG90A1 is a sniper rifle that can be modded to having a 20 round clip (compared to its original 5).
This is a very skill-oriented weapon, as (after the damage mod) it has a consistant 1 hit kill to the chest/head, and will not kill if any other part of the body is hit. Obviously, this lead the MSG90A1 to be very unpopular and overall not recommended, but can be of signifcant use if one can consistantly land body shots on opponets and take advantage of its 20 round clip and slightly below-average recoil.
Being of Ducky rank, this is one of the few guns which are rentable and is recommended above the Galil for a rentable semi-auto sniper.
The MSG90A1 is also a good choice while playing [AI]demolition missions, mainly because it can kill many enemies in a short amount of time (due to its 20 rounds magazine and semi-automatic operating mechanism). But you need to know how to manage its recoil and, dont fire it to frequent after each shot or you will easily miss after the first shot.
Modifications
Edit
Mount
Precision Scope (Range +3) Quick Scope
Barrel
Long Range Barrel (Range +2, Stability -1)
Sharpshooter Barrel (Accuracy +2, ROF -1)
Reinfor ed Rifling Barrel (Damage +8, Stability -1, ROF -1)
Trigger
Trigger Mechanism Customize (Stability +2, ROF -1)
Precision Trigger (Accuracy +1, Stability -1)
Magazine Type Replacement (Stability -2, Ammo +15)
Grip
Weight Grip (Stability +1, Mobility -1)
Rapid Fire Grip (ROF +1)
Stock
Light Stock (Stability -2, Mobility +2)
Heavy Stock (Stability +2, Mobility -2)
Special Force Edition (Accuracy +5, Stability -2, Mobility -2)
PSG-1 Stock (Stability +3)
Recommended Builds
Edit
Quick Scope
Reinforced Rifling Barrel (Damage +8, Stability -1, ROF -1)
Magazine Type Replacement (Stabiity -2, Ammo +15)
Weight Grip (Stability +1, Mobility -1)
PSG-1 Stock (Stability +3)
This build mainly focused on added damage to mitigate the tag rate (hence the 82 +8 damage), while adding a little bit stability and sacrifices some of the ROF and mobility. Use this mod if you want to be a real "support sniper" on the field, while all the other players rush into fight, you can pick off some of your enemies without have to reload every 5 shots fired. After all, this gun isn't recommended for Demolition matches if the player don't have experience with the gun. But it excels on [AI] Demolition matches.
Notable Comparisons
Edit
Despite being modeled with a 20 round magazine, it only holds 5 (most likely for "balancing" reasons).
The MSG-90 is essentially a more ruggedized PSG-1, made to withstand harsh conditions, coincidentally it is also alot cheaper.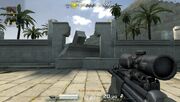 Ad blocker interference detected!
Wikia is a free-to-use site that makes money from advertising. We have a modified experience for viewers using ad blockers

Wikia is not accessible if you've made further modifications. Remove the custom ad blocker rule(s) and the page will load as expected.