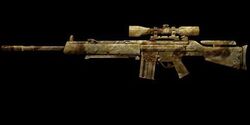 "

Unknown.

"



 

— Weapon Description 
Part of the Desert Shadow weapon series, it is in UAVA. The MSG90A1 Desert Shadow is a Mega Capsule prize. It was released in the 03-03-14 Content Update.
Modifications
Edit
Mount
Precision Scope Quick Scope
Barrel
Long Range Barrel (Range +7.5)
Sharpshooter Barrel (Accuracy +2.6, Auto Fire ACC +2.4, ROF -0.3)
Reinforced Rifling Barrel (Damage +8, ROF -0.07)
Trigger
Trigger Mechanism Customize (Stability +1.5, ROF -0.42)
Precision Trigger (Accuracy +1.5, Auto Fire ACC +1.3)
Magazine Type Replacement (Stability -0.6, Ammo +15)
Grip
Weight Grip (Stability +5.4, Mobility -0.8)
Rapid Fire Grip
Stock
Light Stock (Mobility +2.1)
Heavy Stock (Stability +5.1, Mobility -2)
Special Force Edition (Accuracy +0.1, Auto Fire ACC +0.6, Stability -0.6, Mobility -3.2)
PSG-1 Stock (Stability +7.3, Auto Fire +0.20)
Recommended Builds
Edit
Notable Comparisons
Edit
Ad blocker interference detected!
Wikia is a free-to-use site that makes money from advertising. We have a modified experience for viewers using ad blockers

Wikia is not accessible if you've made further modifications. Remove the custom ad blocker rule(s) and the page will load as expected.