This article is a stub. You can help Alliance of Valiant Arms Wiki by expanding it.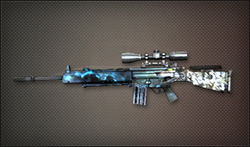 "

A custom built MSG90A1 modified to fire 7.62mm x 51 NATO ammo. These heavier rounds offer improved penetration and a flatter trajectory.

"



 

— Weapon Description 
The MSG90 Borte Chino is an upgraded version of the MSG90A1. It features improved damage,range and magazine size,but also a lower RoF. The MSG90 Borte Chino can be considered as a stronger,but a much slower version of the SVD Zebra. The 91 damage makes the gun tag 85% of the time, but the SVD is a two shot kill and has higher RoF. 
Modifications
Edit
There are no modifications for this weapon.
Notable Comparisons
Edit
According to a 17th century Mongolian chronicle, Borte Chino is the ancestor of Genghis Khan.
Ad blocker interference detected!
Wikia is a free-to-use site that makes money from advertising. We have a modified experience for viewers using ad blockers

Wikia is not accessible if you've made further modifications. Remove the custom ad blocker rule(s) and the page will load as expected.