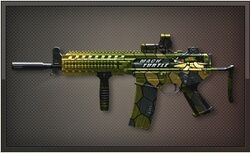 "

[Mach Turtle] Costume model of K1A1. New parts use scandium alloy steel.

"



 

— Weapon description 
Mach Turtle is the only "blue weapon" that can be modified. It has same mods as standard K1A1 but Dot (x2 HS) scope is already on and can't be removed.
Modifications
Edit
Burst Barrel (+2 RoF, -1 Accuracy)
Sharpshooter Barrel (+2 Accuracy, -1 RoF)
Advanced Trigger (+2 Stability, -1 Range)
Precision Trigger (+1 Accuracy, -1 Stability)
Soft Grip (+2 Stability, -1 Accuracy)
Silicon Grip (+1 Stability)*
Recommended Builds
Edit
Ad blocker interference detected!
Wikia is a free-to-use site that makes money from advertising. We have a modified experience for viewers using ad blockers

Wikia is not accessible if you've made further modifications. Remove the custom ad blocker rule(s) and the page will load as expected.