This article is a stub. You can help Alliance of Valiant Arms Wiki by expanding it.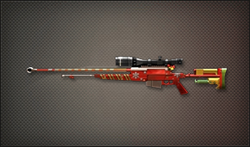 The Milad.338 is a custom version of PGM.338 Sniper Rifle first introduced in December 2012.
Modifications
Edit
Recommended Builds
Edit
Search for a good sniping spot and play defensive. Stay near the back of the map in a safe place and snipe from there.
The Milad.338 is not a move-shot sniper. Make sure when you're shooting, you stop first or crouch.
This weapon is good for quickswitching. Do it!
Notable Comparisons
Edit
PGM Precisions, is a French gun manufacturing company. The PGM .338's alternate name is the PGM Mini-Hecate, chambered for the .338 Lapua Magnum. Its bigger brother, the PGM Hecate II, fires the mighty .50 Caliber.
Ad blocker interference detected!
Wikia is a free-to-use site that makes money from advertising. We have a modified experience for viewers using ad blockers

Wikia is not accessible if you've made further modifications. Remove the custom ad blocker rule(s) and the page will load as expected.