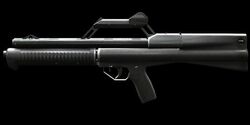 "

[Truvelo Neostead 2000] A battle shotgun developed in South Africa Republic. The 2 tube typed barrel provides faster shooting and reloading speed.

"



 

— Weapon Description 
Previously only available in KAVA, it's available on Aeria A.V.A since the 2nd December 2013 patch.
The Neostead 2000 is the pump action shotgun with the fastest Rate of Fire and the seconnd highest mobility. The Neostead is the only shotgun that has 2 firing modes. The first mode uses pellets rounds; the second mode slug rounds.. Be careful when spamming shots on the Neostead because the bloom grows big really fast due to the high RoF. In-game stats look promising but when using it, it's a different story. The range is 10 but either the range stat lies or there's a steep range drop off. In close range it can kill in 1 shot but when it comes to further away it can take to 2 or even 3 shots to kill.
It is best to use the Neostead 2000 in pellet mode because of the high rof it has. For a pump action shotgun, it has amazing rof. 
Don't ever use the slug rounds unless you want to try to kill or hit someone on far range, to troll, or if you're out of ammo on the pellet rounds.
Notable Comparisons
Edit
The pellet rounds and slug rounds are separated in ammo.
When switching to slug rounds the rof is similar to the 870.
Nothing appears to be loaded into the dual magazines during the reload animation as the shotgun shells disappear once the hand is pulled back
Ad blocker interference detected!
Wikia is a free-to-use site that makes money from advertising. We have a modified experience for viewers using ad blockers

Wikia is not accessible if you've made further modifications. Remove the custom ad blocker rule(s) and the page will load as expected.