This article is brand new! As such, some important information is currently missing.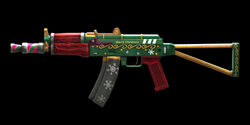 "

A custom variant of the AKS-74U with Christmas theme. This version will be a lucky charm to bless soldiers during Christmas holiday season.

"



 

— Weapon Description 
Among all the other Christmas skins, this is one of the oldest. Stat wise and performance wise, it is identical to the original AKS-74U.
The gun itself has high damage, range and rate of fire, which is outweighed by it's large amount of recoil, mediocre accuracy and large crosshair bloom.
Modifications
Edit
Burst Barrel (-2.5 Accuracy, -1.3 Auto Fire ACC, +0.60 Auto Fire)
Mechanism Improvement (-1 Auto Fire ACC, +0.60 Auto Fire)
Custom Trigger (+0.6 Recoil Control, -0.33 Auto Fire)
Ergonomic Grip (+1.1 Accuracy, +0.8 Auto Fire ACC)
Recommended Builds
Edit
Stability
Edit
(+1.1 Accuracy, +0.8 Auto Fire ACC, +0.6 Recoil Control, -0.33 Auto Fire) This build makes Noël AKS-74U easier to use but less deadly. Recommended for beginners
Custom Trigger
Ergonomic Grip
Highest DPS
Edit
(-1.5 Accuracy, -1.6 Auto Fire ACC, +1.26 Auto Fire) This build makes Noël AKS-74U a higher-tier SMG. High DPS, penetration and low price makes this gun also the most cost-efficient SMG in-game.
Burst Barrel
Mechanizm Improvement
Ergonomic Grip
Like the AK47, the AKS-74U should not be used in full auto unless at very close range, and should be either be used in short bursts (NOT quick taps, see next paragraph). This goes in sharp contrast with what Point Men are used to perform as (full auto at close range), but when sprayed the AKS-74U is more likely to get players killed than becoming a saving grace. Surprisingly, this weapon is actually MORE accurate when burst than when tapped. Video for proof will be posted at the end of this section.
The AKS-74U has a vertical recoil pattern, a type seen mostly in the Rifleman Class. Very few pointmen weapon have vertical recoil, and those who do have it generally perform well at medium to short ranges. Since the AKS-74U is a carbine, it is able to fight beyond CQC, giving you a better fighting chance against Riflemen. Also, if your target is around 12-17 meters, burst for the chest, as the recoil will end up sending bullet to the head, making it a good headshot machine.
Notable Comparisons
Edit
SR-2M Veresk
Edit
(with ammo mod: +10 Ammo, -2 Mobility) The AKS-74U has notably higher damage (36 to Veresk's 33), much higher range (30 to 22), MUCH lower mobility (70 to 90) and MUCH lower RoF (65 to 81) than SR-2M Veresk . They share the same accuracy, stability, and clip size.
Note that the AKS-74U isn't as moddable as the Veresk since the AKS-74U does not have a scope, nor does its has mods as potent as the Veresk's. That being said, the Veresk is also 25,000 euros more expensive.
The AKS-74U Has MUCH higher damage (36 to 27) and MUCH higher Range (30 to 20).
The MP7A1 has negligibly higher accuracy (42 to AKS-74U's 40), MUCH higher stability (44 to 28) MUCH higher mobility (92 to 70) and MUCH higher RoF (81 to 65). It also has a larger clip (40 to 30).
They have no stat-based traits in common.
SG552 / RIS
Edit
Although the SG552 is not quite as damaging as the AKS-74U (-1 dmg, -1/+2 rof), It feels more stable with the stability grip and can be silenced and scoped for a more tactical/long range/expensive option.
FA-MAS F1 / G2
Edit
Although being a rifleman and trading some DMG for RANGE, the FA-MAS feels similar in-game to the AKS-74U:
FA-MAS F1 < AKS-74U (Barrel + ROF + grip) = FA-MAS G2 (-ROF trigger, Hard Grip, +3 stab Stock)
Ad blocker interference detected!
Wikia is a free-to-use site that makes money from advertising. We have a modified experience for viewers using ad blockers

Wikia is not accessible if you've made further modifications. Remove the custom ad blocker rule(s) and the page will load as expected.