This article is a stub. You can help Alliance of Valiant Arms Wiki by expanding it.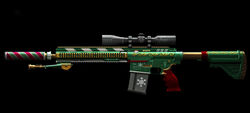 "

A custom variant of the HK417 with Christmas theme. This version will be a lucky charm to bless soldiers during Christmas holiday season.

"



 

— Weapon Description 
Overview
Edit
The Noël HK417 is a skinned variant of the HK417 Sniper, which it is identical to in every way other than cosmetics. It is one of the oldest Christmas-themed weapons, being released a short time after the original set (AKS-74U, M16A2 & FR-F2)
Modifications
Edit
Quick scope (1 phase zoom)
Magazine Replacement II (-3.2 Recoil Control , -0.51 AutoFire, -5.3 Mobility, +10 Mag. Capacity)
Recommended Builds
Edit
For the HK417, players should use this weapon with the Magazine Replacement. With it's already quick 2-phase scope , it isn't worth equipping the quick scope as is actually slower than the default scope. The Magazine Replacement Trigger is recommended as it allows the player to stay in the fire fight for longer before having to reload, albeit it does worsen recoil and rate of fire slightly.
Variants
Edit
This gun's unbelievable accuracy and stability when spraying allows it to lay down pin-point accurate firepower on fully-automatic.
Always pick strategic points where multiple enemies are likely to rush. This sniper's high rate of fire and penetration can break any large attack as it begins to tear through multiple opponents.
It's high stability and accurate moveshot can be used to "dodge" enemy sniper-fire while still laying down counter-fire.
The range of this sniper is the highest of all the non-capsule semi-automatic sniper rifles.
Notable Comparisons
Edit
The HK417 comes in 12", 16", and 20" barrels in real life.
Many consider this rifle to be the only worthwhile semi-automatic sniper rifle in the Euro shop with its ability to lay down suppressive fire against riflemen and snipers alike.
Ad blocker interference detected!
Wikia is a free-to-use site that makes money from advertising. We have a modified experience for viewers using ad blockers

Wikia is not accessible if you've made further modifications. Remove the custom ad blocker rule(s) and the page will load as expected.