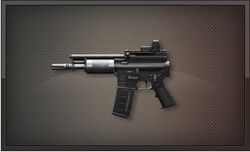 "

[0A-93] A M16, M4 series MAR model. To minimize the size of the weapon, get rid of the barrel, buffer spring, stock which make it look like a pistol.

"



 

— Weapon description 
High rof, high portability, decent damage. Range feels lacking after a few meters, much like the SR-3M. Reinforced Barrel doesn't seem to make any difference. Always aim for the head, since this gun has no recoil whatsoever-
Modifications
Edit
Reinforced Barrel (Damage +3, RoF -1.03)
Burst Barrel (Accuracy -0.7, Auto ACC -0.5, RoF +0.76)
Custom Trigger (Control +0.6, Auto Fire -0.41)
Recommended Builds
Edit
Reinforced Barrel (Damage +3, Stability -1, RoF -1)
Notable Comparisons
Edit
Veresk The Veresk has -1 Damage +1 Range -2 Accuracy +2 Stability +1 Rate of Fire !
Galil MAR The Galil has -2 Damage +4 Range -2 Accuracy +18 Stability -2 Rate of Fire +5 Magazine !
This weapon is produced by Olympic Arms, an American company specializing in manufacturing M16 and AR-15 pattern rifles, carbines, and pistols.
In real life, the OA-93 is semi-automatic.
GIF Gallery
Edit
Ad blocker interference detected!
Wikia is a free-to-use site that makes money from advertising. We have a modified experience for viewers using ad blockers

Wikia is not accessible if you've made further modifications. Remove the custom ad blocker rule(s) and the page will load as expected.