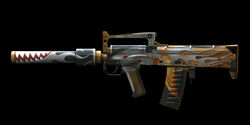 "

An unusual custom model of the OTS-14 Groza, engraved with an image of the king of the sea: the fierce and agile great white shark. Along with improved stability, it features increased power and range by using improved gunpowder.

"



 

— Weapon Description 
Overview
Edit
The OTS-14 White Shark is an upgraded variant of the OTs-14 Groza. It is currently available for purchase from the in-game shop for 230 Red Tickets. Compared to the original, this features a higher overall performance, with it's biggest improvements being in Range and Accuracy.
The exterior features the image of a great white shark from the stock to the middle of the gun, and has shark teeth stretched along the barrel.
Modifications
Edit
Barrel
Burst Barrel (-1.0 ACC, -0.9 AutoFire ACC, +0.26 AutoFire)
Long Range Barrel II (+5.5 Range)
Reinforced Barrel (+4.0 ATK, -0.39 AutoFire)
Recommended Build(s)
Edit
Variants
Edit
Ad blocker interference detected!
Wikia is a free-to-use site that makes money from advertising. We have a modified experience for viewers using ad blockers

Wikia is not accessible if you've made further modifications. Remove the custom ad blocker rule(s) and the page will load as expected.